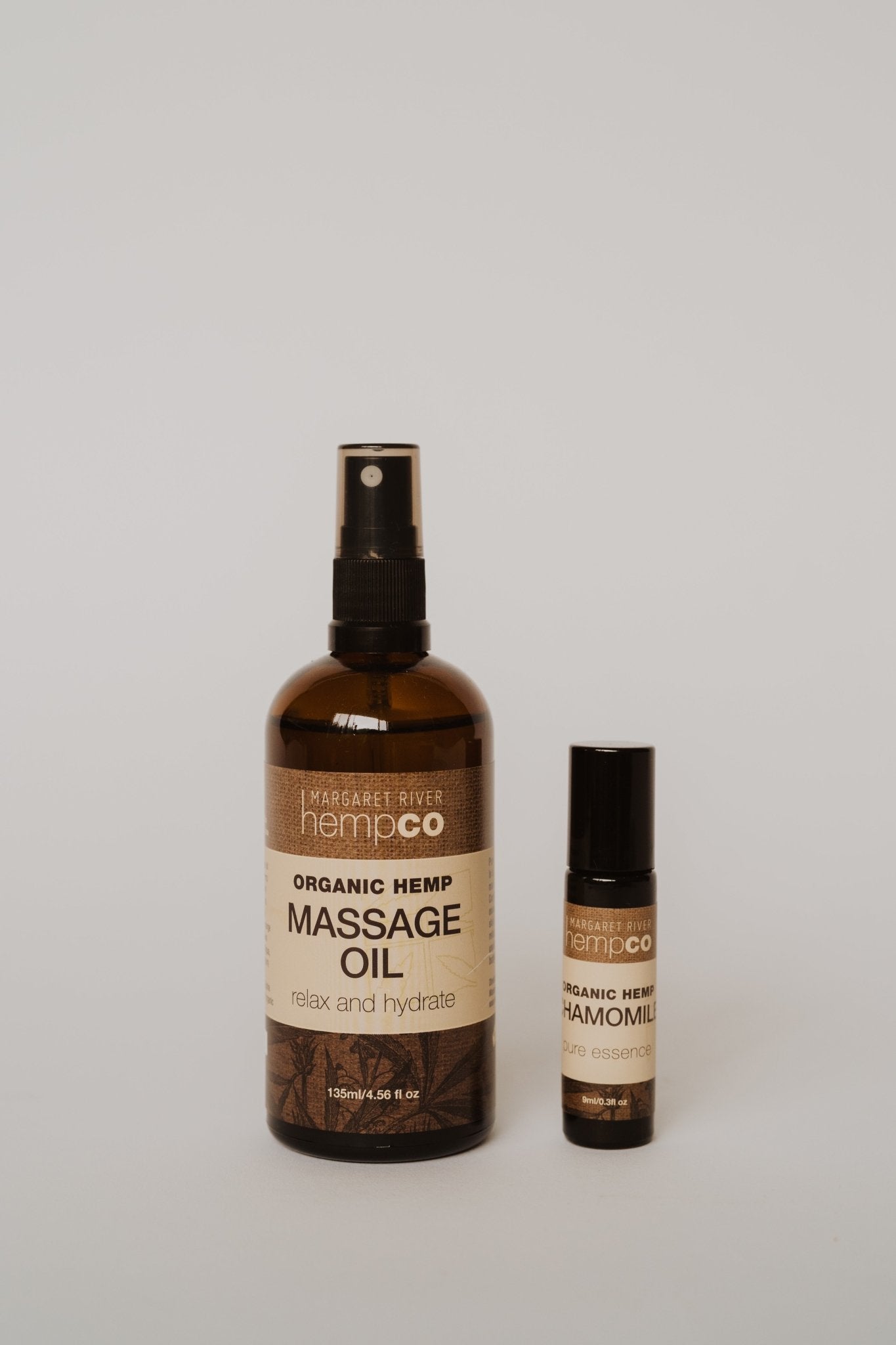 Heavenly Hemp Bundle - Massage Oil & Chamomile Pure Essence Roll On
Sale price
$31.00 USD
Regular price
Heavenly Hemp Bundle - Massage Oil & Chamomile Pure Essence Roll On
Sale price
$31.00 USD
Regular price
Product description
Shipping & Return
Product reviews
Heavenly Hemp Bundle
Massage Oil - Relaxation - $29.95
Chamomile Pure Essence Roll On - $19.95
Total - $49.90
Bundle - $44.90
Organic Hemp Massage Oil (Relaxation)
This deeply penetrating Hemp Massage & Body Oil enters deep into your dermal layers, providing your skin and muscles with hydration and nourishment from the outside-in.
The 'Relaxation' Massage Oil will sweep you away from the worries of the day with strong notes of Australian Orange, Black Pepper,  Australian Botanical – Zunzea Ambigua and Lavender; freeing up enough tension so that you can ease into your down-time just the way you deserve. 
On top of that, when you wake up, your skin will be thanking you.
Ingredients:
*sunflower oil(helianthus annuus) *Hemp seed oil(cannabis sativa) *safflower oil(carthamus tinctorius) vit e(d-alpha tocopherol) Australian orange(citrus sinensis) Australian Botanical – zunzea ambigua, black pepper(piper nigrum) *lavender(lavandula augustifolia) limonene, alpha pinene, caryophyllene, *organic
Net contents 135ml – 4.56fl/oz
Organic Hemp Pure Essence
As a natural, sustainable alternative to synthetic scents and perfumes, Margaret River Hemp Co.'s Organic Hemp Pure Essence radiates an attractive, long-lasting aroma. With an easy roll-on applicator and a portable glass bottle, this magical essence is sure to last a long time and win a permanent spot in your fragrance line-up. Coming in a gender-neutral scent means this roll-on Hemp cologne is suitable for men, women, and children alike.
'Pure Essence' is the 100% natural alternative to scents or perfumes. The small glass bottle comes with a simple roll-on applicator and is easy to carry in your bag.
Hemp Seed Oil is our #1 choice when it comes to skincare ingredients due to its comedogenic rating of zero. Yep! Even though it's an oil, it won't clog pores.
The combination of all-natural ingredients and Hemp Seed Oil will ensure that your skin is nourished without irritation. What's more is that you can feel confident in the fact that there are no SLS', Parabens, GMO's, or any other nasties that you don't want on your skin! Our Organic Hemp Essence is made with 100% natural ingredients and is Certified by 'Choose Cruelty-Free'
All of our Hemp Skincare products are made by us in Margaret River, WA from Australian Grown Hemp Seed!
Ingredients:
Chamomile
*sunflower oil(helianthus annuus) *Hemp seed oil(cannabis sativa) vit e(tocopherol) Australian orange(citrus aurantium dulcis) *lavender(lavandula augustifolia) Australian botanical fragonia(agonis fragrans) chamomile(chamomilla recutita) linalool, limonene, *organic
Net contents: 9ml – 0.3fl/oz
To find out more about how Hemp Seed Oil benefits your skin, check out our original blog here.
Local, National and International Delivery
Next day dispatch on all orders. We will contact the customers if there is any unusual delay
Australian Customers
Delivery is by Australia Post and can take up to 10 working days, depending whether you live in the Metro area, in the country or rural.Delivery charge is $9.95
Priority Delivery within Australia
We use Australian Post Express, when requested. Minimum charge is $18.50 for parcels.
Courier Service
With large or bulky items we use a courier service to any address in Australia, other than a PO Box number. On behalf of the customer, we would check with the courier for delivery costs.
Delivery Service to New Zealand
Delivery to New Zealand can take up to 10 working days.Standard Delivery Charge is $18
Delivery Service for International Customers
Delivery for international customers can take up to 21 working days.Standard Delivery Charge is $25