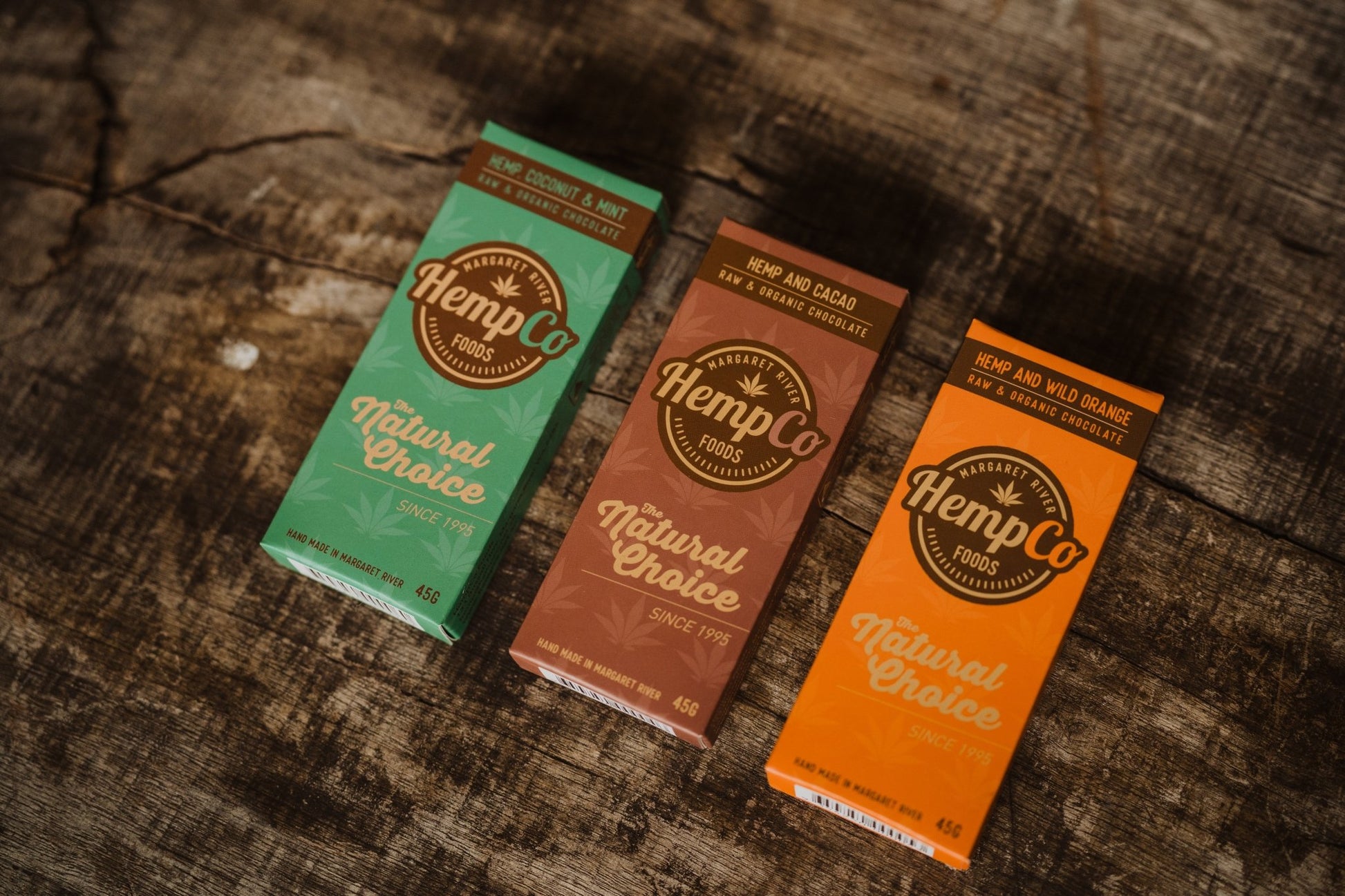 Hemp Chocolate Value Pack
Sale price
$17.00 USD
Regular price
$17.00 USD
Hemp Chocolate Value Pack
Sale price
$17.00 USD
Regular price
$17.00 USD
Product description
Shipping & Return
Product reviews
There's no better guilt-free treat for your sweet-tooth than to give it a try our very own Handmade Raw Hemp Chocolate bars!
Hand-crafted in Margaret River, Australia, and boasting all of Hemp Seed's health benefits, a combination of Hemp & raw cacao offers has brought to life a healthy, vegan-friendly chocolate bar that is a must-have for anybody on a plant-based diet with a bit of a sweet tooth.
The Hemp Chocolate Value Pack comes bundled with;
1x Hemp & Cacao Chocolate Bar
1x Hemp Coconut & Mint Chocolate Bar
1x Hemp and Wild Orange Chocolate Bar
All of the Hemp seed used in these chocolates was grown, processed, and packaged right here in Australia.
But the seed isn't just sold right off the plant!  Before making it into our Hemp chocolate bars, the seed departs the field and embarks on a processing journey where the hard outer shell gets removed.  What's left is a soft, creamy, nutty-tasting seed packed with healthy fats and essential vitamins & minerals.   The most common terms for the final product after processing are 'Hulled Hemp Seed', 'Hemp Hearts', or simply 'Hemp Seed'.  Once the shells have been removed, we can legally use them in chocolates!
The nutritional content of Hemp seed includes…
Omega 3, 6, & 9 – A complete plant-based protein!
Vitamin E
Vitamin D3 – The only plant-based source!
Phosphorus
Folate
Magnesium
Calcium
Zinc
…And so much more!
Most importantly, our Australian Hemp Seeds are GMO-Free – Just as nature intended!
Ingredients:
cacao butter*, cacao powder*, coconut syrup*, sea salt, coconut*, hemp seeds*, cinnamon, peppermint - * organic
No diary * No refined sugar * gluten-free * No soy * low GI
Net contents: 45g
Local, National and International Delivery
Next day dispatch on all orders. We will contact the customers if there is any unusual delay
Australian Customers
Delivery is by Australia Post and can take up to 10 working days, depending whether you live in the Metro area, in the country or rural.Delivery charge is $9.95
Priority Delivery within Australia
We use Australian Post Express, when requested. Minimum charge is $18.50 for parcels.
Courier Service
With large or bulky items we use a courier service to any address in Australia, other than a PO Box number. On behalf of the customer, we would check with the courier for delivery costs.
Delivery Service to New Zealand
Delivery to New Zealand can take up to 10 working days.Standard Delivery Charge is $18
Delivery Service for International Customers
Delivery for international customers can take up to 21 working days.Standard Delivery Charge is $25