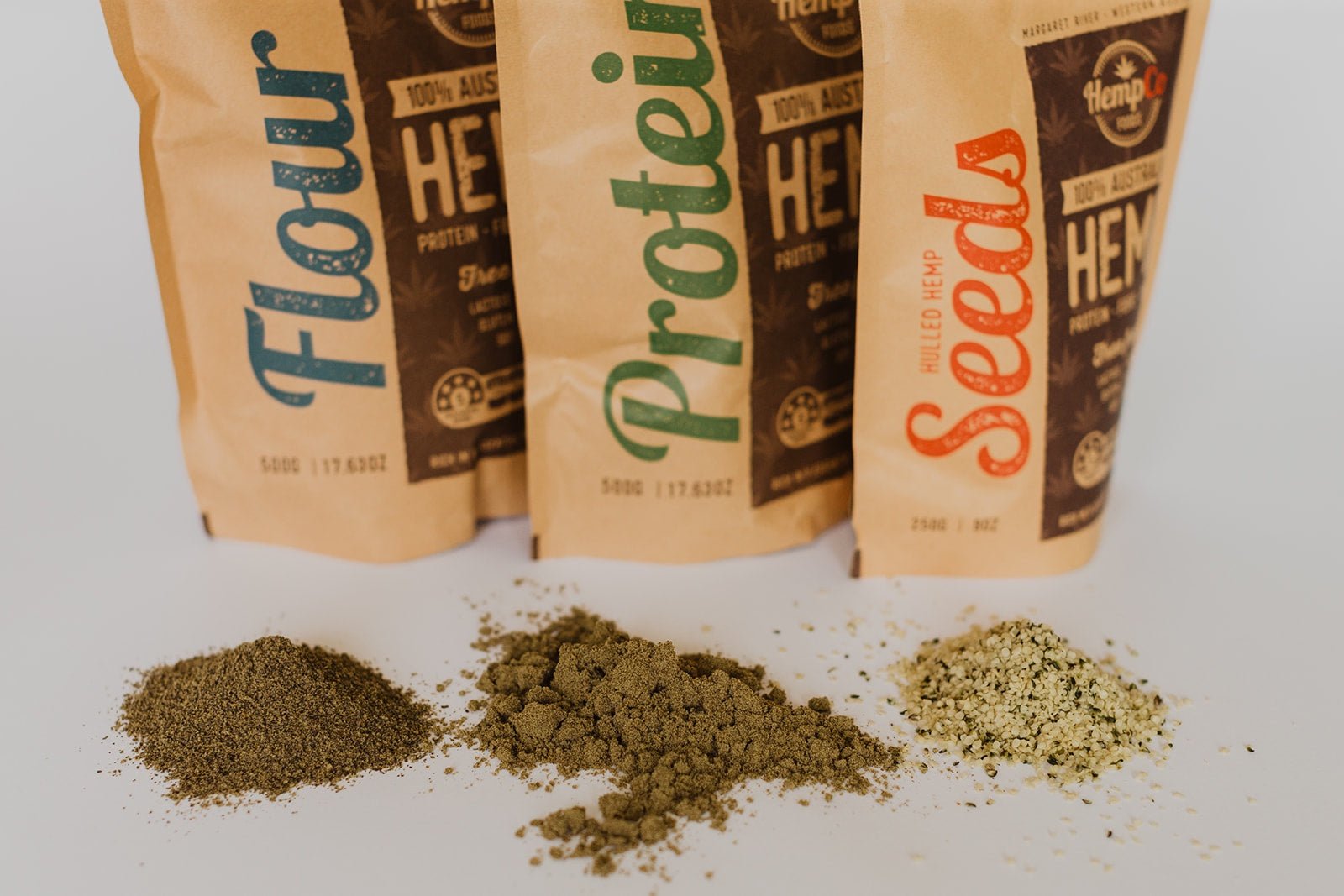 Sale price
$44.00 USD
Regular price
$44.00 USD
Hemp Foods - Value Pack
Sale price
$44.00 USD
Regular price
$44.00 USD
Product description
Shipping & Return
Product reviews
Hemp Foods:
* Hemp Flour - 500g - $11.95
* Hulled Hemp Seeds - 500g - $29.95
* Hemp Protein - 500g - $29.95
Total - $71.85
SALE - $64.65
Hemp Seeds
100% Australian Grown Hemp Seeds. Cannabis Sativa Seeds is the proper name for hemp seeds. 'Hemp Seeds' is usually the term used for the whole hemp seed as it comes from the plant (after cleaning). The hemp seeds are then de-hulled and the 'hulled hemp seed' or 'de-hulled hemp seed' or 'hemp nut' or 'shelled hemp seed' is then produced. This part is soft and creamy, whereas the whole seed is crunchy. Hemp oil is usually produced from the cold-pressing of the whole hemp seed. The by product is a flour which, after some processing, is turned into hemp protein powder.
A 100% natural source of vitamins and minerals, such as Folate, Iron and Calcium, Hemp Seeds also contain Vitamin E, which keeps the exemplary omega oils protected from oxidation.
Hemp Flour
Grown, produced and made in Australia with 100% Australian Hemp Seed. Hemp Flour is an excellent addition to your baking. Use for both sweet and savoury recipes.
Hemp flour is all purpose and is produced by extracting the oil from raw seed. What is left is a substance called Hemp cake. It is then milled and turned into Hemp Flour powder.
* high in fibre
* protein over 30% per 100g
* gluten free
* gmo free
* plant based
Hemp protein
Grown, Produced and Made in Australia with 100% Australian seeds. Hemp protein can be used like any other protein powder. Add it to a smoothie or shake for breakfast, or a pre/post workout.
* high in fibre
* complete source of protein, providing all 9 essential amino acids
* plant based
* gmo free
* gluten free
Local, National and International Delivery
Next day dispatch on all orders. We will contact the customers if there is any unusual delay
Australian Customers
Delivery is by Australia Post and can take up to 10 working days, depending whether you live in the Metro area, in the country or rural.Delivery charge is $9.95
Priority Delivery within Australia
We use Australian Post Express, when requested. Minimum charge is $18.50 for parcels.
Courier Service
With large or bulky items we use a courier service to any address in Australia, other than a PO Box number. On behalf of the customer, we would check with the courier for delivery costs.
Delivery Service to New Zealand
Delivery to New Zealand can take up to 10 working days.Standard Delivery Charge is $18
Delivery Service for International Customers
Delivery for international customers can take up to 21 working days.Standard Delivery Charge is $25