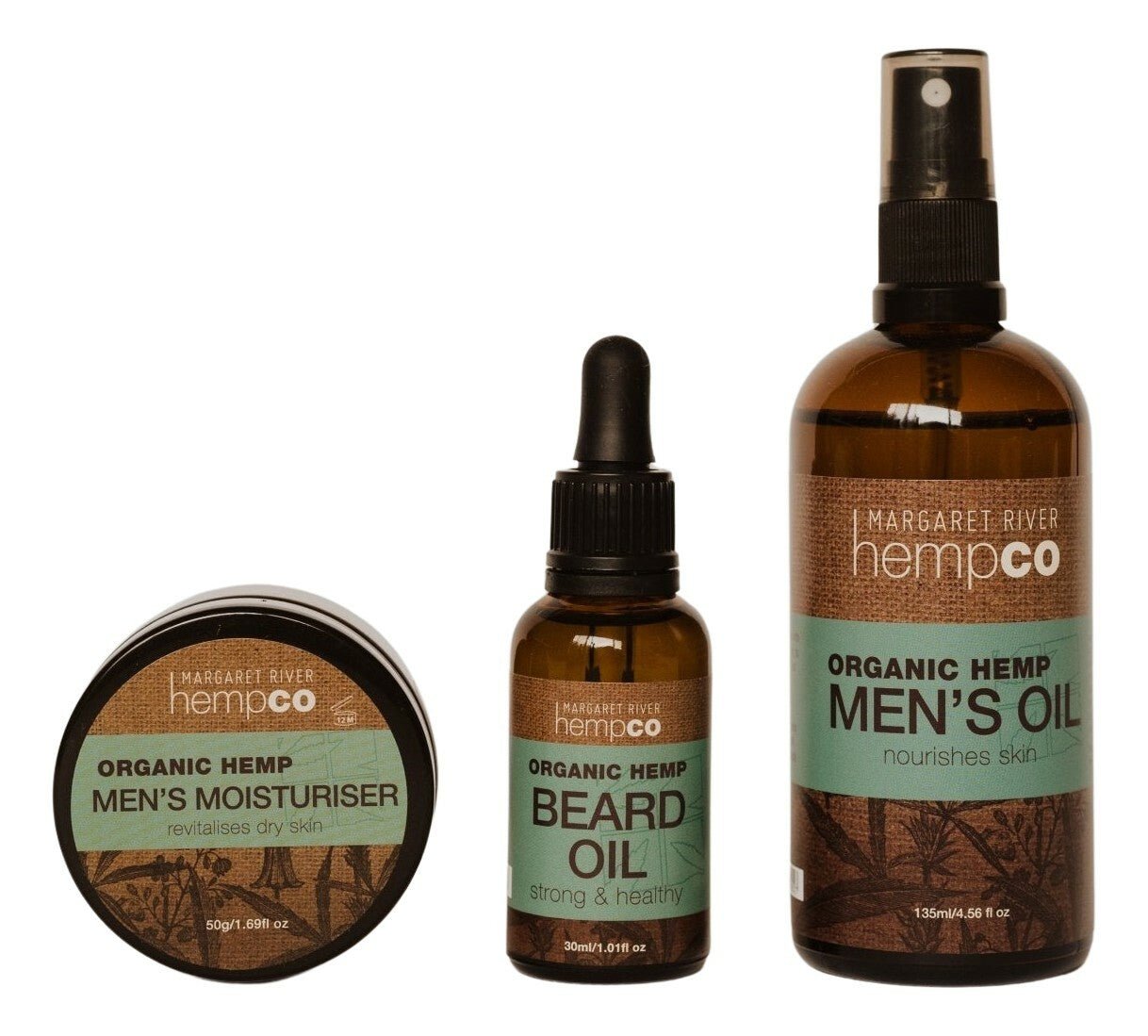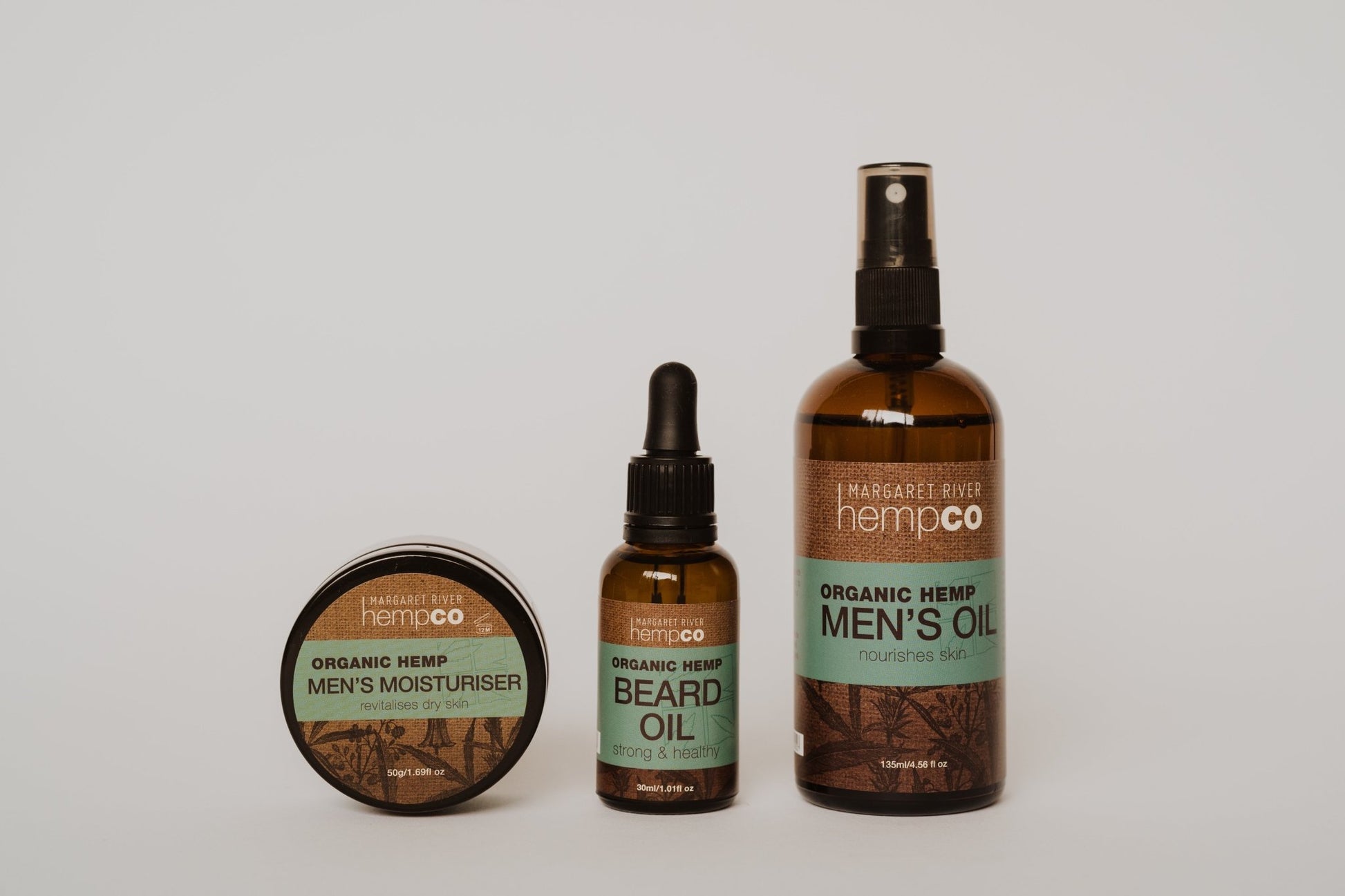 Men's Hemp Beard & Body Bundle
Sale price
$41.00 USD
Regular price
$41.00 USD
Men's Hemp Beard & Body Bundle
Sale price
$41.00 USD
Regular price
$41.00 USD
Product description
Shipping & Return
Product reviews
Men's Hemp Beard & Body Bundle
1 x Massage oil - 130ml - $26.95
1 x Beard Oil - 30ml - $26.95
1 x Men's Moisturiser - 50g - $13.95
Total - $67.85
Bundle - $61
Organic Hemp Men's Body Oil
This deeply-penetrating Hemp massage oil enters deep into your dermal layers, providing it with hydration and nourishment from within. Hemp Seed Oil, being non-comedogenic, does not clog pores or cause extra oil/sebum production.
Use it to calm and revitalise your rough, tired skin or as a luxurious, relaxing massaging treatment.
The possibilities are endless!
Ingredients:
*sunflower oil (helianthus annus) *Hemp seed oil (cannabis sativa) natural vit e (d-alpha-tocopherol) kunzea (kunzea ambigua) honey myrtle (melaleuca teretifolia) black pepper (piper nigrum) citral, alpha-pinene, caryophyllene, *organic
135ml – 4.56 fl/oz
Organic Hemp Beard Oil
Our Hemp Beard Oil mimics your skin's natural oil balances to give your beard the natural 'oomph' that it needs to grow strong and healthy. Infused with Vitamin E, Argan Oil, and Hemp Seed Oil, this beard oil will soften facial hair whilst promoting a full yet tame look.
Ingredients:
*Hemp seed oil (cannabis sativa) *sunflower oil (helianthus annus) *safflower oil (carthamus tincturius) *argan oil (argania spinosa kernel) natural vit e (d-alpha-tocopherol) honey myrtle (melaleuca teretifolia) peppermint gum (eucalyptus dives) citral, piperitone *organic
30ml – 1.01fl/oz
Organic Hemp Men's Moisturiser
Men tend to be more regularly exposed to different environmental aggressors throughout the day – and let's face it; we don't do much to combat their effects. The result? Dry, flaky, irritated skin that itches and cracks.
But who has time to spend time crafting an optimal skincare routine for your environment?
We designed our Men's Moisturiser with all of the above in mind.
Using Hemp Seed Oil keeps skincare simple. With the optimal ratio of Omega 3 & 6 oils, you will stay looking youthful and sharp for longer. Walk around with confidence knowing that nothing you're using contains SLS', Parabens, GMO's, or any other chemicals that often wind up in skincare products. On top of that, the Organic Hemp Men's Moisturiser is certified by Choose Cruelty-Free (CCF).
All of our Hemp Skincare products are made by us in Margaret River, WA from Australian Grown Hemp Seed!
Ingredients:
*Aloe Barbadensis Leaf Juice, *Hemp Seed Oil (Cannabis Sativa), *Sunflower Oil (Helianthus Annuus), *Shea Nut (Butyrospermum Parkii), *Cocoa Nut (Theobroma Cacao) Cetearyl Olivate, Sorbitan Olivate, Non GMO Vegetable Glycerine, Dehydroacetic Acid, Benzyl Alcohol, Australian Botanicals – Honey Myrtle (Melaleuca Teretifolia), Buddha Wood (Eremophila Mitchellii), Wattle (Acacia Pycnantha). *organic
50g/1.69fl.oz
Local, National and International Delivery
Next day dispatch on all orders. We will contact the customers if there is any unusual delay
Australian Customers
Delivery is by Australia Post and can take up to 10 working days, depending whether you live in the Metro area, in the country or rural.Delivery charge is $9.95
Priority Delivery within Australia
We use Australian Post Express, when requested. Minimum charge is $18.50 for parcels.
Courier Service
With large or bulky items we use a courier service to any address in Australia, other than a PO Box number. On behalf of the customer, we would check with the courier for delivery costs.
Delivery Service to New Zealand
Delivery to New Zealand can take up to 10 working days.Standard Delivery Charge is $18
Delivery Service for International Customers
Delivery for international customers can take up to 21 working days.Standard Delivery Charge is $25